Title: Simple Plan's Journey to the Top
Written by Jho Mariano
Edited by Jamie Ortega
Before you rock out to Simple Plan on January 12 at the Smart Araneta Coliseum feast your eyes on some fun facts about their members. Be sure to catch them live in Manila! Get your tickets now! The show is produced by DAYLY ENTERTAINMENT.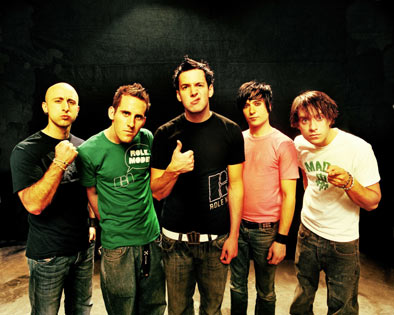 1.
Remember their roots: Simple Plan is a Canadian punk-pop band consisting of former high school friends Pierre Bouvier (vocals), Jeff Stinco (guitar), David Desrosiers (bass), Seb Lefebvre (guitar), and Chuck Comeau (drums). At age 13, Pierre and Chuck formed a band in Montreal, Canada named Reset. In the long run, Chuck left the band and started a new band with some friends and Pierre soon joined, after that Simple Plan was formed.
2.
The band has released four studio albums: No Pads, No Helmets...Just Balls (2002), Still Not Getting Any...(2004), Simple Plan (2008) and Get Your Heart On! (2011); as well as two extensively promoted live albums: Live in Japan 2002 (2003) and MTV Hard Rock Live (2005). Simple Plan fans which ones were your fave and why? Tell us below!
3.
After recording several demos, Simple Plan finally scored a record deal with Lava Records, a division of Warner Brothers Records. They collaborated with Good Charlotte's Joel Madden and Mark Hoppus of Blink 182, the end result being the fiery and fun No Pads, No Helmets...Just Balls, released in early 2003 by Lava Records. It sold over four million copies worldwide and went double-platinum in Canada and America.
4.
The Bob Rock-produced second album, Still Not Getting Any was produced the next year. It did quite well, scoring hits like Crazy and Welcome to My Life. In 2005, they released a live concert album entitled, what else, Live from the Hard Rock.
5.
Simple Plan has been nominated for different awards from various distinguished and respectable organizations. They were nominated for a Juno award, Kerrang! award, MTV Asia award, MTV Video Music award, MuchMusic Video award, NRJ Music award, Teen Choice Award- just to name a few.
6.
Like what many people say, being nominated is an honor in itselt, although nothing spells success like an award. The group has taken home several awards like the 2002 CASBY award, 2006 Juno Fan Choice Award, 6 MuchMusic Video awards, 2006 artiste s'étantillustré le plus hors Québec, and 2005 Teen Choice Award, and a lot more.
7.
Some of their annual gigs Rock out on stage! The band performs at the annual Vans Warped Tour and other gigs around the globe.
8.
The band returned after a three year hiatus, with another album, Get Your Heart On!, which featured cameos from Rivers Cuomo, Natasha Bedingfield, and All Time Low's Alex Gaskarth. MacKenzie Wilson, and Rovi.
9.
Fan of the Olsen twins? You probably saw Simple Plan in the movie New York Minute starring Mary-Kate and Ashley Olsen. Simple Plan played the band that Mary-Kate's character was obsessing with.
10.
"I would've gotten away with it if it hadn't been for those meddling kids." Does that line ring a bell? The band's music was also featured on both Scooby-Doo and the Scooby-Doo 2: Monsters Unleashed soundtracks.
11.
These dudes are definitely rockers with a heart. Simple Plan helps nonprofit and advocacy groups by donating to different organizations such as the MTV Asia Aid benefit, MADD (Mothers Against Drunk Driving), RADD (Recording Artists, Actors, and Athletes against Drunk Driving), and the Make-A-Wish Foundation, and more. They will be soon forming their own foundation called the Simple Plan Foundation, a foundation that focuses on teen problems ranging from suicide to poverty to drug addiction.