Title: MCS Exclusive: How It All Started with Lifehouse
Written by Jho Mariano
Edited by Jamie Ortega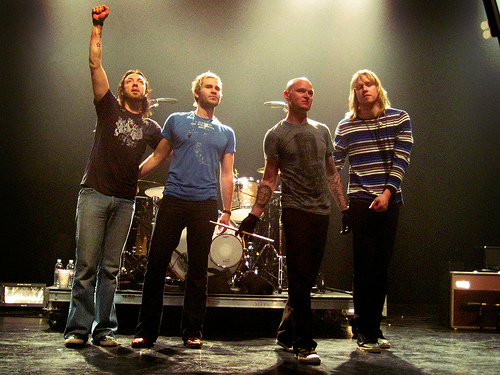 Get to know the boys behind the phenomenal hits You And I and Hanging By A Moment as we backtrack Lifehouse's humble beginnings. Once dubbed as a Christian band, their music never fails to touch the recesses of their fan's soul with the group's heart-wrenching lyrics and smooth melodies. How did they get to where they are now? Find out below.
Lifehouse is a Los Angeles-based alternative band formed during the early 2000s headed by singer/songwriter Jason Wade (lead vocals/rhythm guitar), with Rick Woolstenhulme (drums/percussion), Bryce Soderberg (bassist/backup vocals), and Ben Carey (lead guitar).
Wade was raised by a missionary couple who were travelling most of the time. He showed an interest in songwriting when he and his mother settled in Los Angeles and formed a band named 'Blyss' in 1996. Having Sergio Andrade, bassist, as his neighbor, they spent hours in Wade's garage writing songs and making music that would be the backbone of Lifehouse's signature sound.In 1999, all their hard work resulted UB a self-released album, 'Diff's Lucky Day,' including series of shows at church and worship services. However, Lifehouse didn't want to be known as a Christian band. They signed a contract with DreamWorks Records labeling themselves as an alternative rock trio after adding drummer Jon Palmer as their third member.
Lifehouse released their official debut album, 'No Name Face,' in the autumn of 2000. It reached double-platinum sales. One of its' most successful singles in the album was 'Hanging by a Moment' as its highlight, which also became the most played radio track of 2001. Shortly after recording the first album, Rick Woolstenhulme, Jr. replaced Palmer on drums.
With all the unanticipated success that welcomed the band, they were soon back in the studio making a follow-up album. With Brendan O'Brien as the producer, Wade headed his band in recording 'Stanley Climbfall' during spring and summer of 2002. It was released by DreamWorks in September of the same year but did not quite reach the same level as' its predecessor. Shortly after the album debuted, Rick's brother Sean Woolstenhulme (of 'The Calling') officially became the fourth member of the band in June 2002. In 2004, Andrade left the group to pursue a different path. Right after he left, Sean also left the band to pursue other musical projects.
Wade reformed Lifehouse and was back in early 2005 with a self-titled third album, followed by several tour dates as a result of its' success. Lifehouse also reintroduced their line-up with Jason Wade (lead vocals/rhythm guitar), Rick Woolstenhulme (drums/percussion), adding a new member, Bryce Soderberg (former AM Radio), as Lifehouse's bassist/vocals.
In 2007, the band released their fourth album, 'Who We Are,' a compilation well-received by ther fans.. Their third and fourth album went gold thanks to their songs 'First Time,' 'You and Me,' and 'Whatever It Takes,' which reached the Top 40.In July 2008, Lifehouse performed live at the Araneta Coliseum in Manila, Philippines. The band performed 16 songs to thousands of their Filipino fans. In April 2009, the band made another announcement in relation to their line-up, they declared Ben Carey as an official member of Lifehouse. They said that they had been "a four-piece for some time" and that Ben is "family to us." Carey had been touring with the band since 2004.
A fifth album, "Smoke & Mirrors," was released three years later with its' leadoff single "Halfway Gone" in collaboration with rapper/songwriter Kevin Rudolf. In August 2011, Lifehouse announced on their official Facebook page that they will be working on their sixth studio album. Before we get to hear the awesome music that this band will surely be creating go see them live on May 26 at the Smart-Araneta Coliseum.
Yes, after 4 long years of waiting, Lifehouse is back in the country! Catch them live as Dayly Entertainment proudly "LIFEHOUSE LIVE IN MANILA!" at the Smart-Araneta Coliseum on May 26, 2012! Call TicketNet at 911-5555 for ticket inquiries and reservations.